We had a fantastic time at
Tionól
in St. Louis! We met some wonderful friends from all over the world... (click on the links to see the larger pictures)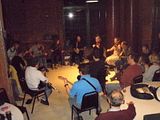 ...connected with some friends from home...
...proudly watched our students dive right in with the adults...

...made music into the wee hours of the morning...
...learned some new things (our amazing dancing friend Tré Champagne of the
Ghrá na Gaeilge
Irish dancers took her first bodhrán workshop)...
...played some new tunes...
...told the stories of our lives...
...did a little sightseeing (the Arch!)...
...blended right in with the best of them...
...made time for a little nonmusical fun...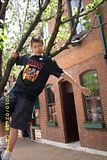 ...and stopped for fireworks on the way home (what, didn't you?)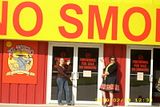 I was very lucky to take a class with one of my fiddle heroes, John McEvoy of Dublin and two of my students took a class with young Irish fiddle dynamo Oisín Mac Diarmada. I can't recommend this musical event more highly. It was a fantastic weekend.
We are already looking forward to Tionól 2011!